SOMETHING WORTH FIGHTING FOR
By Mary MacLaren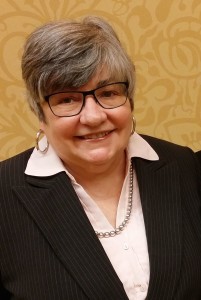 Duty, honor, country. This, we'll defend."
"Not for self, but country."
"Aim high…Fly, fight and win!"
U.S. Armed Forces slogans
These lofty goals embodying long-standing traditions of the U.S. armed forces are words I live by—especially "Aim high," which I now bring to my role as chair of the Workplace EAP Task Force for Chicago Says No More.
As an officer for 23 years and a colonel in the Air Force for six, I know about the challenges experienced by women in the military. In 1985, I had just graduated from the National War College (NWC). My new boss, also an NWC grad, told me on day one he "never sponsored skirts" for important jobs in the Pentagon. I thanked him for letting me know, and went on to work as hard as I could to prove him wrong.
My next two assignments first as Chief of Staff, Plans and Policy Division for the NATO Military Committee, found me supervising the work of 40 officers from 14 countries to prepare major policy positions for the Military Alliance and second as Base Commander, leading a team of 2,000 at the home of Strategic Air Command at Offutt Air Force Base, Nebraska. Both assignments were the first time a woman had ever held these jobs. So much for "no skirts."
While the military rightfully can claim solid progress regarding fairness to women who serve, incidents of sexual assault and cover-up persist. Sexual violence is incompatible with the values of public service inherent in the culture of the U.S. military. It is incomprehensible to me how the training programs for the most skilled and dedicated fighting force in the world fail to address this human tragedy.
How can someone sexually assault a fellow service member and remain true to the core values of serving our country?
Yet attacks continue. Two recent Pentagon studies showed that more than 25,000 men and women in the military are assaulted each year. Less than 10 percent of victims report the assault. The majority of rapes that are reported are never prosecuted anyway, so the hesitation on reporting is understandable. Service members who do speak out remain at risk of being victimized again by the disciplinary system. It is not uncommon for the courageous survivor to become the dishonorably discharged.
As a woman who dedicated herself to our country, it is difficult to be rational when seeing the perpetrators of these savage crimes destroy the reputation of the armed services every time the adjudication targets the victim. Saying the victim is responsible his or her own assault for any reason—what she was wearing, drinking, saying, thinking—is particularly pernicious in the military, where victims are typically outranked by perpetrators.
I believe sexual assault of women in service follows a pattern that began in the sixties and continues today. There is a mistaken perception in the military that when women achieve more, they do so at the expense of male peers. The persistence of this myth causes resentment in the ranks.
Women now make up more than 15 percent of military personnel. While "no, [still] always means no," the armed services have unique cultural norms, like the chain of command, privileges of rank and no fraternization policies. In a situation where a senior officer asks for sexual favors or attempts an assault, the lower-ranking person may feel compelled—either by the perpetrator or by custom—to yield.
The more senior person will get the benefit of the doubt, particularly if the higher ranking officer has an otherwise exemplary record. Because these cases are adjudicated within the chain of command, it may be impossible for the victim to get a fair hearing.
The Military Justice Improvement Act, originally sponsored by Senators Kirsten Gillibrand (D-NY) and Susan Collins (R-ME) would remove sexual assault cases from the jurisdiction of the chain of command. Instead of the commanding officer, military prosecutors would make the decision on whether or not a sexual assault case goes to trial. So far, the bill died in committee in two sessions. Senator Gillibrand will no doubt keep working to correct this systemic problem and its consequences, including the collateral damage to assault victims who suffer trauma, emotional disorders and irreparable damage to their lives and careers.
As difficult as it is, I challenge all the men and women of the armed forces as well as veterans like myself to speak out about this problem and support this legislation. We should not allow the abhorrent behavior of abusers to desecrate  dese the honor, pride, reputation, respect and sacred traditions of America's military.
We should stand up for what is right. It's on us to be transparent, professional and fair in disciplinary actions within our ranks regardless of gender, color, or creed. There is too much at stake for everyone who wears or has worn a uniform as well as the future of our country.
If you believe Senator Gillibrand's bill has merit, let Senators Durbin (D-IL) and Kirk (R-IL) know about it and ask them to co-sponsor the bill. It's an important message that these behaviors must stop.
Mary MacLaren, chair, Chicago Says No More Task Force on Workplace EAP Programs, and retired executive director, The Executives' Club of Chicago and Colonel, USAF, Ret'd.